Your fully-operational buy-to-let limited company.
Buy-to-let property in mind? We'll set up a UK limited company and business account for you to purchase it with.
Correctly structured, to suit your investment needs.
Select between a standalone or holding company structure for your buy-to-let purchase.
With everything needed to manage your company.
We provide all the services your company needs to run on a day-to-day basis.
Which structure is right for me?
From setup...
Business account
Use this for the funds to purchase your property as well as ongoing rental income and property expenses.
Legal documents
Tailored buy-to-let ready legal documents, expertly designed to protect your property investment and your shareholders.
Accounting services
Seamlessly manage the accounting needs of your company structure through the platform, including tax return.
GetGround company basics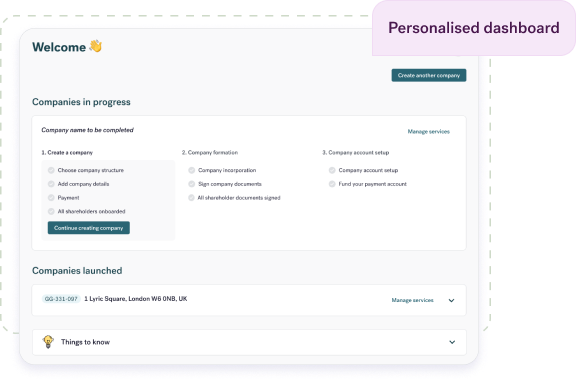 To ongoing management
Secretarial tools
From assistance with dividends to annual confirmation statement filing and share transfers.
Companies House WebFiling
Company incorporation and annual account filing with Companies House, included.
Automated share transfers
Benefit from easy, secure and automated share transfers between different shareholders.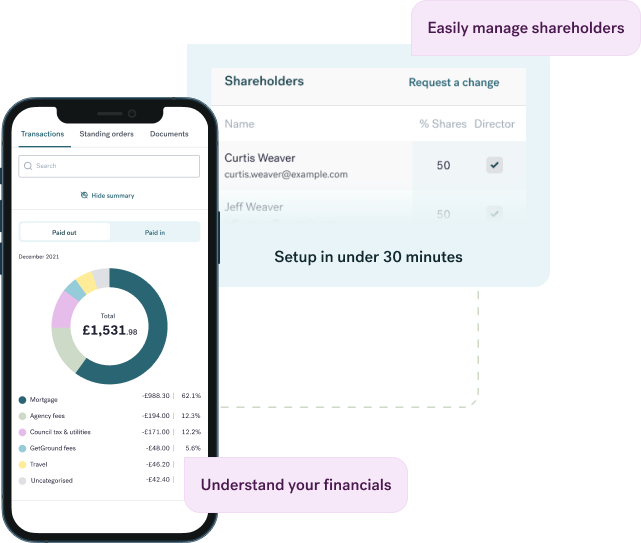 Smart structuring
Standalone limited company

Own shares in a limited company that owns the buy-to-let property.
Company formation
Company structuring
Business account
Legal documents
Accounting & tax returns
Holding company & subsidiary

Own shares in a holding company which owns multiple subsidiary companies.
All your properties inside one group
Typically for those building a portfolio
All the same services as the stand-alone package
Learn more
Simple pricing
One-off setup UK residents
£149+ VAT
Per company (standalone or subsidiary)
One-off setup Non-UK residents
£499+ VAT
Per company (standalone or subsidiary)
Monthly subscription
£19+ VAT
Per company (standalone, subsidiary or holding company)
Your third company onwards is FREE to setup
After you have set up two standalone or subsidiary companies, your third (and any after that) are always free. Holding companies do not count towards this.
Holding company setup cost is always FREE
We only charge a setup fee for standalone or subsidiary companies - and never for the holding company itself.
Your holding company also has a subscription fee
There is a £19 + VAT subscription fee for each standalone or subsidiary company, as well as each holding company.
Excellent
Join over 10,000 property investors
already benefiting from buy-to-let, done better.
Khalidah
"A great company with excellent service. From the very start of my journey with them I was fully supported and guided through the whole process. I would highly recommend GetGround to anyone looking to start a company portfolio."
Ready to get started? Set up my company
Buy-to-let knowledge, delivered.
Provide your email address here and receive our newsletter.